Have Your Pledges Turned Into Action?
It's been 5 months since the second edition of Brum Youth Trends landed on the laps of influential people around the city. From Birmingham City Council members to students to business professionals - we want the city to join up its thinking and take a joint responsibility in earning our claim of being the youngest city in Europe. But a paperback report alone can not do this.
We need people to commit to using the report's findings to alter and change what they do, in order to turn these findings into ACTION
We have been keeping an eye on what the 2018 Summit speakers have been doing to progress the pledges that they committed to during the event. We want to take this opportunity to share with you their current progress and exciting developments since last year.
Student & Member Of UK Youth Parliament
Waleed spoke about his moving story of surviving an APS attack in Peshawar resulting in him losing all of his friends, and since, battling with mental health issues. Waleed committed to raising awareness of young people living with mental health problems by taking part in more public awareness raising activities including motivational speaking. Since Oct 10th, he has been featured in news publications online, in print and on screen including an interview in Wisdom magazine, and for BBC Three's documentary One In A Million. Waleed has also presented a motivational speech at London University.
CEO & Co-founder, Girl Dreamer
The CEO and Co-Founder of the amazing GirlDreamer talked about providing spaces and platforms for young people to think differently. When catching up with Amna, she informed us of some amazing progress in this area including:
Expanding their Boarders Without Borders movement by launching surfing this year

Introducing leadership retreats for women of colour to learn, recreate and grow in a safe space with like-minded individuals
Giving women of colour access to learn digital skills which will eventually make the sector more inclusive and diverse
CBBC Presenter & Digital Researcher
As a young person from Birmingham wanting to work on-screen, she had ended up moving to Manchester to pursue her dreams. Tee Cee is now back in Brum in a new role of Development Researcher at BBC Three and is making progress in helping young people get their good ideas to those that can make something happen. Tee Cee has:
Conducted 7 talent meetings with Birmingham talent as a chance for them to pitch ideas to BBC Three

Conducted 4 screen tests with Birmingham talent for a new BBC Three short form series

Created a Birmingham talent list for BBC Three development so that they are aware of existing, as well as up and coming talent from the city

Conducted research into an idea currently in development that explores the young communities in Birmingham

Pitched Waleed Khan's story to a Casting Producer from BBC Three and they have since interviewed and filmed with him for a new series
Chair of Arts Council England
The Mayor of the West Midlands pledged to a number of things on the day of the Summit including to provide cheaper & better transport, more housing - 200,000 homes by 2050, and establish a youth combined authority in the Midlands. The journey to the housing and transport commitments are underway, and we can confirm that the West Midlands Combined Authority have also started putting the wheels in motion in order to recruit a Youth Combined Authority in the West Midlands.
Student & Founder of YouthAI
During her talk at the Summit, Kari pledged to educate young people on AI and how it can enhance their lives. Since October 2018 she has:
Run full day AI workshops with Year 10 students through University College Birmingham

Had an audience with Margot James (UK Digital Minister) at the UK internet governance forum, where Kari talked about the need for more AI education for your people

Preparing the launch of her Youth4AI website in the spring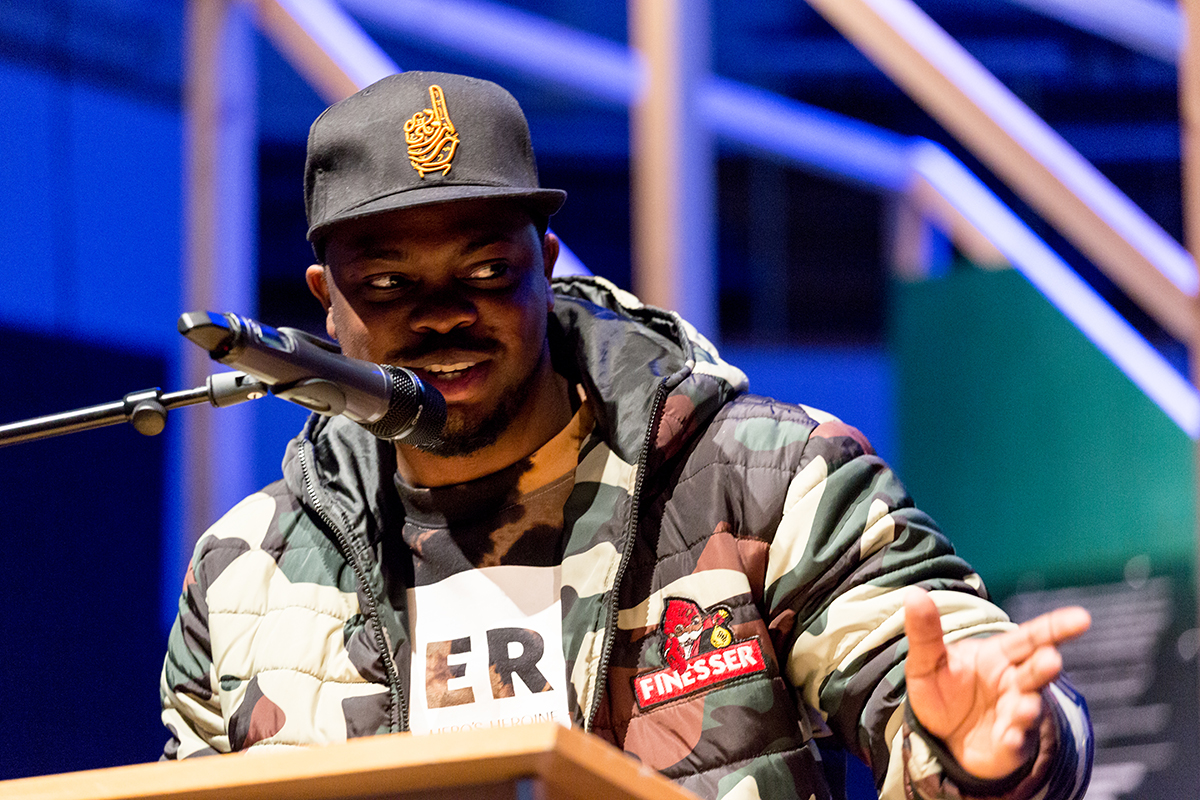 The BBC Radio 1 and 1Xtra Presenter pledged to keep coming back to Birmingham in order to show young people they are valued. So far, he has:
Created a weekly segment on his show where he spotlights a Midlands artist each week

Working with West Midlands council on a summer event in West Midlands for young people
As well as all of this pledge progress from some of the Brum Youth Trends Summit speakers, we have also had a new pledge from the University of Birmingham's Cultural Partnerships Team, who read the report and were completely inspired! They have committed to:
Exploring University research that links with the findings of the report, connecting Beatfreeks with researchers where appropriate in order to facilitate knowledge exchange and collaboration

Providing platforms for discussion of the findings of the report across the University (e.g. CAKE – Collaboration & Knowledge Exchange event)

Shape our activity with the findings of the report at the forefront of our planning and delivery where appropriate
Keep your eyes peeled for more in the coming months. We will keep pushing for action so that the young people of Birmingham are heard!